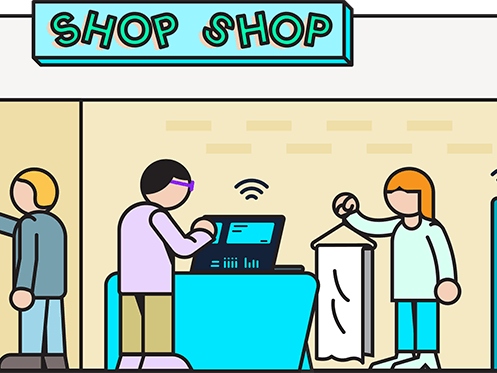 Unified Commerce, yet another Buzz Word?
Publisert 15.12 2022 av Front Systems
Is Unified Commerce yet another Buzz Word, or essential to survive the imminent retail storm?
---

The market is over-saturated with similar goods
According to Google, in 2019, about 90 percent of global shoppers scoured the web prior to visiting a store. It also reports that 50 percent of the shoppers who started the in-store shopping journey, subsequently went online after the store visit.
According to a trade report from Virke (2019 - 2020), almost half of online shoppers prefer shopping in a brick-and-mortar stores.
Despite the magnitude of ecommerce, this can be discerned as an opportunity to strengthen physical retail by employing latest technologies.
According to a recent Gartner study, about 80 percent of businesses will soon leverage customer experience to secure a competitive position in today's aggressive business climate.
With the rules of competition changing, customer experience is perhaps the single most key differentiator. In a market that is rift with similar products, businesses will be pouring resources into innovative marketing more than the product itself to build an early advantage.
Clicks vs Bricks - The tables are turning
Brick and mortar retailers are now transporting the digital world into their stores, something that online stores can only dream about.
In a David-and-Goliath-like reversal of roles, physical stores are evolving more than ever and capitalizing on the immersive shopping experience. Our customers, who refuse to see their physical stores become relics of a long-gone era, want to reinforce sales through multiple strategically located experiential stores with a real wow factor and technology-enabled in-store offerings.
In Virke's trade report, there are three things that remain: price, availability and service. We choose to call it relevant offers, convenience, and experiences, which essential mean the same.
Convenience
Today's customers expect a perpetual availability that matches their demands.
Availability can mean multiple things.
Lightning fast delivery
Shoppers want delivery faster, perhaps within 1-2 hour window of placing an order. Companies such as Porterbuddy have made it possible to have the goods delivered in no time. This kind of quick delivery requires the stores to view themselves as small micro-fulfilment hubs that stage products closer to customers in order to deliver efficiently and quickly.
Micro-fulfillment center is a valuable offering in retail that gets the goods into the customer's hands faster. If the customer buys goods from one of the retail giants, the chance of the goods lying in a central warehouse is very high, and delivery from there takes time, often up to several days.
Click and collect
Opting for a click and collect system allows retailers to offer online purchase of a product and an in-person pick-up at the store. This is a factor that differentiates the stores from ecommerce retailers.
For this to work in practice, it is crucial that the order is handled and processed in a simple way for the store associates.
Example: The customer places an order online, and store associate receives a message on the cash register system or phone. Store associate scans and picks the ordered item. The customer is then notified that the item is ready for pickup.
Physical retailers are using store pickup to cut delivery costs, encourage customer interaction with associates, and drive in-store sales growth.
In-store fulfilment
If you want to give your customers a unified commerce, omnichannel experience, then stock accuracy is essential.
Inventory management must move away from being initiated in the ERP system. The master of the stock must be the retail store itself and not the ERP system.
Retailers must seize the opportunity to cater to customer's demand for faster and affordable delivery by turning stores into fulfilment centers. However, the challenge faced by them is a lack of real-time inventory. This leads to missed opportunities because of inaccurate data that is retrieved from ERP systems.
Retailers across the globe are increasingly departing from ERP systems and taking giant strides towards delivering real-time retail.
Our cloud-based SaaS service transcends the existing ERP solution used by retail chains, such as Accessorize Norway, by giving more control with real-time information on stock availability. This empowers the store associates who can now trust the accuracy of stock levels and, as a result, deliver a stellar customer service.
Endless Aisle
Inventory stockouts hurt business and result in lost sales and revenue that have a ripple effect on reputation, customer satisfaction levels and more.
To increase chances of getting the customers to continue shopping, endless aisle can be crucial.
By using endless aisle, retailers can help customers browse and order products that are not available in the store. This coupled with the ability to access a customer's profile, retailers can cross-sell or upsell related items. Show the inventory of other stores in the company through the mobile checkout system and suggest the customer about an immediate pickup of the item in the nearest store or have it shipped to their home.
With needs of customers changing at a dizzying pace, integrating endless aisle, a digital extension of in-store shelf, is critical in reducing lost revenue and retain customer base with enhanced shopping experience.
Experiences
With a slew of retail touchpoints available, shopping experience has truly transformed over time, but in-store shopping nurtures personal relationships with customers, something that is irreplaceable.
Sensory experiences continue to hold primacy in shopping experience. There is more focus on customer's needs, personalized service, ability to test products, and make an easy return, which, incidentally, is also the least favorite part of ecommerce shoppers.
Let me give an example to illustrate this.
I was at a seminar in New York when my spouse sent me a text message with details on a pair of Nike sneakers that she wanted me to purchase.
Her purchase journey started online, browsing on the Nike Store website, where she found the model and size of the shoes. Then using Google Maps she shared the store's location and gave me the lowdown on how to reach the store from the hotel.
In a nutshell, a well mapped purchase journey.
I find the shoes in the store and looking around I realized there were no checkout counters, and it has been so for several years, according to the store associate.
While the store associate picks up the item, I sit down in a comfortable chair. After verifying the item, I completed the transaction on an iPad with a payment terminal.
I made the payment, while the shoes were packed. Once the receipt was printed, it was tossed in a bag along with the pair of shoes.
This is a shopping experience where several small elements worked in isolation but created a cohesive shopping experience, digitally connecting online channels to in-store shopping experience. And an experience intriguing enough to be mentioned here.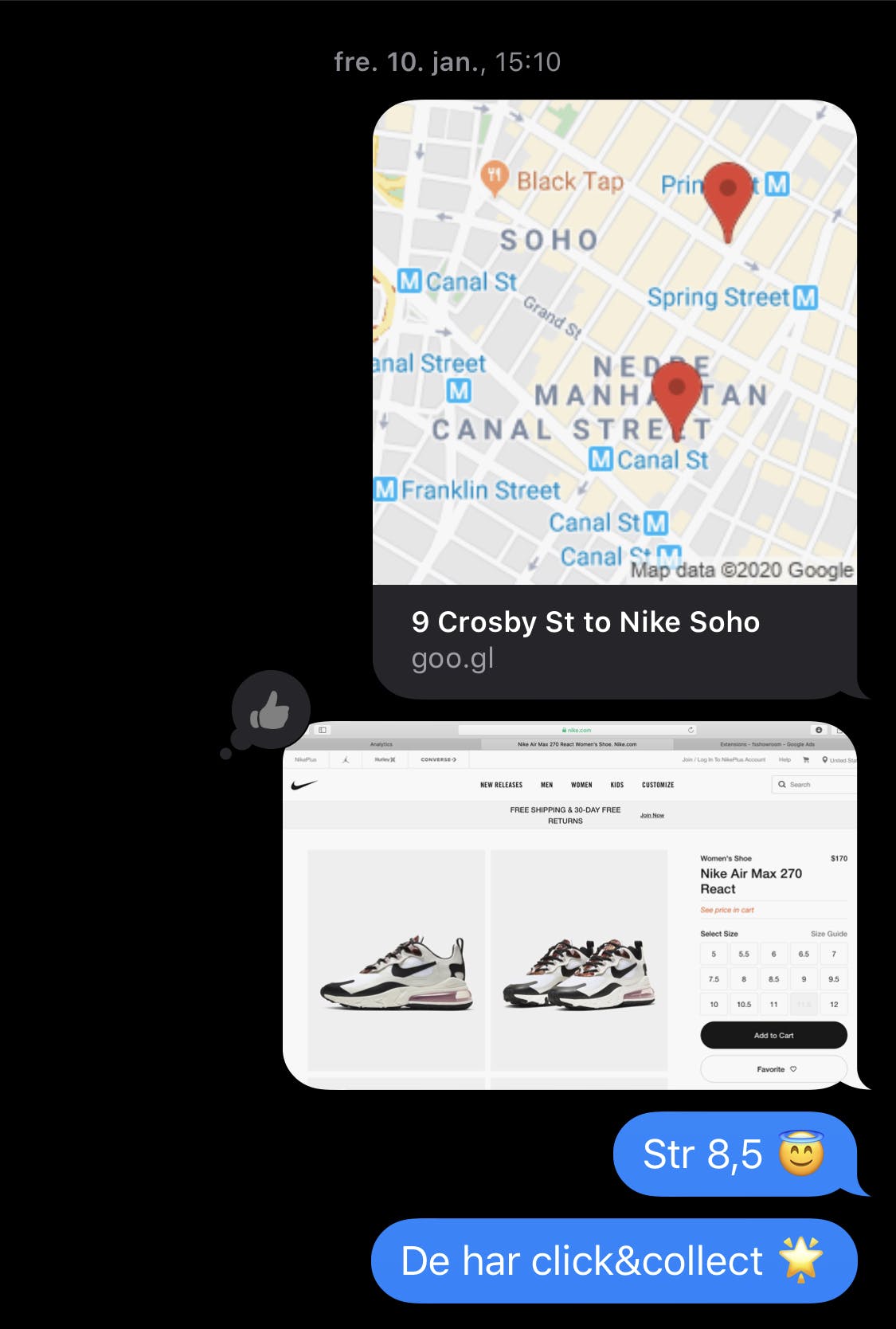 Amalgamation of personal service and artificial intelligence
Ecommerce players harness customer data analytics, including customer's preferences, where and what they last purchased, what time of the year do they shop more, so on and so forth. Doing so allows them to customize the content & offers and cultivate a more personalized and synergetic shopping experience. This is done using artificial intelligence.
When you walk into a physical store you are met by a store associate, who may recognize you, and give suggestions based on your previous purchase. But there is a possibility that the store associate has never interacted with you in the past. You will not get the personal service you could have received had the store associate known more about you or your purchase history.
The absence of right technology can cost sales and frustration with shoppers and store associates.
Perhaps time to consider personal service with artificial intelligence?
Mobile POS is reshaping retail. When used well, it can turn challenges into opportunities; the customer is matched with a sales associate who is armed with the customer's references, purchase and browsing history, amidst other things. The associate is given a chance to respond faster, help the customer find related products, order the item if it exists only in online store and not physical store, find other variants of the item, present recommendations based on past purchase history.
The inherent challenge to retailers is providing the right tools to associates and customers to stimulate customer experience - an experience that is channel agnostic.
To attain this, they must adopt a unified commerce solution.
Offer
The major ecommerce players are using artificial intelligence to uncover shopping patterns and anomalies, personalize products and services, influence customer decision-making, improve business efficiency and offer a bespoke shopping experience.
Unified commerce solution aids in creating a loyalty program that customers value. It's a great way to provide instant gratification and positive reinforcement.
Build a 360-degree overview of customers and their journeys with your products by tapping into the myriad of customer touchpoints, online, offline and external sources.
Deliver high levels of personalization in customer service by using artificial intelligence to develop of specific profile of each customer.
Enrich customer experience with additional dimensions such as:
Align campaigns with customer's journey
Push relevant offers and discounts based on consumption patterns across channels
Reward loyal customers with redeemable points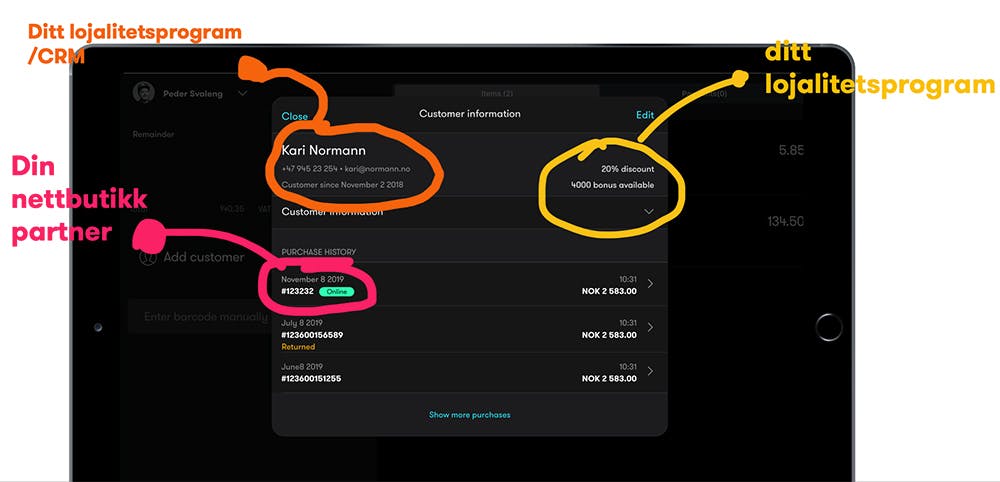 Med unified commerce er dette mulig.
Self-service with own mobile
Unified commerce helps create a frictionless shopping experience for the customer.
It is inevitable that most customers will research products online across other marketplaces while in a store. However, retailers can guide customers through an interactive journey by delivering continuity across channels so that they continue and complete the purchase journey in the store.
Help customers help themselves using a smartphone to simply scan a QR code on the price tag. The QR code includes information such as which other stores in the retail chain have the product in stock and what sizes are available. Besides, when the customer scans the item the store associates receive a message that someone has just scanned the item. They can now provide tailored product recommendations based on the customer's profile and purchase history.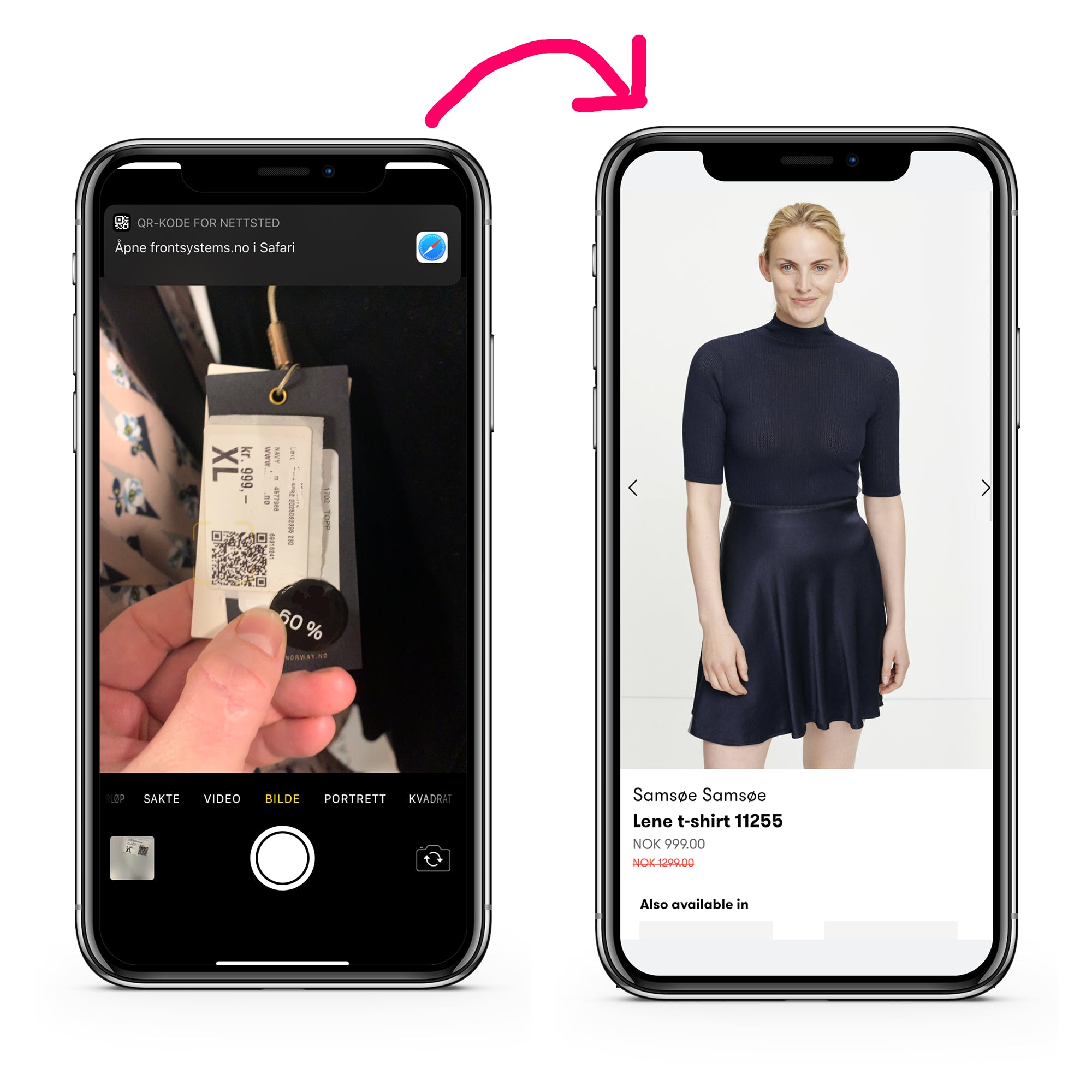 Ecommerce players are adopting artificial intelligence to build a sustainable competitive advantage.
Let's blur the lines between physical and digital retail and focus on making shopping more engaging and endeavor to deliver added value rather than just securing a sale.